About Us
About Us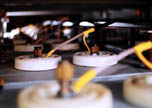 Krishnonics Ltd. Is an ISO 9001:2000 approved manufacturer of film capacitors based in Ahmedabad, India. The company was originally established in 1982 in technical collaboration with Hitachi Condensers and Okaya Electric, Japan. It has grown to be a leading capacitor manufacturer in India with a product range that includes a wide variety of capacitors for both electrical and electronic applications with capacitance range from 0.001 ufd to 10 ufd and rated voltage from 63V to 2000V, pitch range from 5 mm to 32..5 mm:
Metallized Film Capacitors - Powder Coated Type
Metallized Film Capacitors - Box Type
Film Foil Capacitors (Inductive/non-inductive) – Dip Type / Box Type
The company has excellent infrastructure for manufacturing quality capacitors to international standards and includes automatic and semi-automatic machines for winding and testing, all imported from Japan, Korea, Taiwan and Switzerland. The staff members including the operators at Krishnonics are trained to handle the entire manufacturing operation to meet customer requirements.
DIRECTORS
Mr. Shashank I Shah, MS Electrical Engineering, a technocrat, is the Managing Director of the company has 30 years of experience in the field of capacitors.
Mr. Kartikeya S Shah, MS Supply Chain Management, is the head of all manufacturing & marketing activities.